Botany Along the "Prairie Grass Trail "
Cedarville to South Charleston
John E. Silvius, Professor of Biology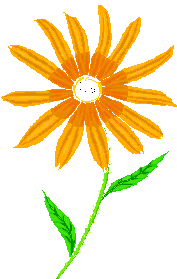 Thankfully, the Ohio to Erie Trail has now been completed from Cedarville to South Charleston, Ohio. This segment, named the "Prairie Grass Trail," will follow the abandoned railroad which, for much of its length, runs parallel to U.S. Route 42 east and west of Selma, Ohio.
Prior to Euro-American settlement in the early 1800's, significant portions of what is now Greene, Clark, and Madison counties was graced with "islands" of landscape consisting of open prairie grasslands surrounded by forested land. With the advent of agriculture and the plow, most of this land was converted to cultivated fields. But today remnants of the original prairie have survived only in cemetaries and along railroad right-of-ways which were not disturbed significantly by plowing or other practices. The most notable prairie remnant is Huffman Prairie which was the site of the Wright Brothers early flight trials and their hanger which has been reconstructed for visitors to see. Meanwhile, the flat landscape such as that located east of Selma invites our research into just how much of pre-settlement Greene and Clark Counties were once "prairie islands."
One such prairie remnant exists in the right-of-way between the former railroad (now the bikeway) and U.S. 42. This right-of-way will be maintained and enhanced as a pairie grassland community when cooperation among the Greene and Clark Co. Park Districts, the ODOT, the Dayton Power and Light Company, and adjacent landowners is developed. The plan will involve a combination of mowing (late spring and early fall, but not in summer when warm-season grasses grow and prepare for winter), spraying, and possibly controlled burning by professional prairie burn crews. Meanwhile, patience on the part of local landowners is appreciated and will be rewarded by a management plan that will control noxious weeds and provide a glimpse of the original prairie that reminds passersby of the blessed historical heritage upon which we depend for our spiritual, mental, and physical lives.
PHOTOS OF REMNANT PRAIRIE SPECIES